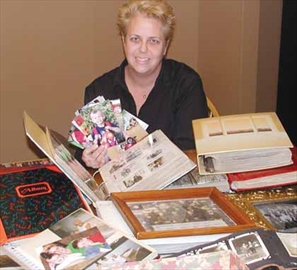 'Scan It Up' offers bulk photo scanning since 2013
John Curry, Metroland
Sandra L. of Stittsville sits among a collection of old photographs like those that she is now handling in her new business "Scan It Up" in which she scans and digitizes treasured old family photographs and documents, preserving them for future generations while also allowing them to be shared with all family members at present.
"A picture is worth a thousand words."
This popular adage tells how a picture or photograph can convey what it takes a thousand words to describe. In other words, a photograph or picture tells quite a story through a single image.
And so photographs are important storytellers, as it were, and especially in a family context – who doesn't have lots of old photographs, perhaps in a shoebox somewhere, depicting generations of family life.
Now, thanks to a new business launched by Sandra L. of Stittsville, you can bring these old photographs into the modern electronic age, making them accessible to all family members and eliminating the danger that they may be lost or damaged sitting there, stored away in that closet.
Sandra's new business is "Scan It Up," which provides bulk photo scanning to preserve those old family photos and documents that everyone has. "Scan It Up," which also offers colour correction and even photo restoration for damaged or aged photos, means that those boxes or albums of old photos can be digitized so that they can be shared with family and friends and used to create a variety of products like canvas prints, photo books, t-shirts and more. Everyone in the family can have a copy of the treasured family photos once they are digitized.
And what's even better is that Sandra is offering reasonable prices, partly because she went out and invested in a top of the line Kodak bulk scanner that allows her to efficiently scan photos at a rapid pace.
All of this has happened as a result of a trip last summer to visit relatives across western Canada. Wherever she stopped, she would end up looking at old photos, catching up on family news.
One of her stops was to visit a family member in Calgary who was affected by the flooding there. Sandra spent time trying to assist her relative in peeling apart and cleaning hundreds of photos that were almost destroyed by the flood waters. This brought home to Sandra just how unexpectedly and quickly old photos and the precious memories that they can be destroyed or lost.
Sandra also visited another relative, a cousin, who had prepared photo books showing photographs from a variety of family occasions. These books were displayed proudly on the family's coffee table.
Returning home from this trip, Sandra found that scanning photos is generally an expensive thing since it is usually time consuming to do.
But further research showed Sandra that there are scanners available that can do bulk scanning of photos, up to 100 at a time, allowing for quick digitizing of lots of old photos.
Sandra also realized that she had to keep her pricing reasonable or else people would just put off having their old photos digitized and preserved forever. The old shoebox filled with photos would live on.
Her pricing includes the availability of gift certificates and also the ability of groups and organizations using her scanning service for fundraising.
Sandra being a "serial entrepreneur" is happy with the direction that her new business is taking her. She has been involved in a number of business projects over the years, ranging from high tech companies to a children's play centre. But with her formal educational background as a graphic designer, she feels right at home ensuring that family photographic treasures are given new life while being preserved not only for today but for the future.
In addition, she feels that she is helping people preserve their family history and memories.
"I really enjoy helping people," she says, noting that in all of her previous business endeavours, there has been a component of helping people involved.
A main challenge is to motivate people to do something about all of their old family photos.
"Everyone wants to get around to it," Sandra says.
She was also saddened by the stories of friends who had entrusted online companies to scan their photos only to loose their photos or in one case, took 3 years and a lawyer to retrieve their photos from a pre-pay online company in Toronto. Family photo's are precious to people and should be treated with respect, and that is what she does.
That's why she has not only tried to keep her pricing reasonable but she is offering a free drop off service right in Stittsville at Seabrook Floral Design & Gifts on Carp Road just north of Hazeldean Road. So you don't have to package up your heavy shoebox full of old photographs and mail or courier it to Sandra. Rather, simply drop it off at Seabrook Floral Design. Easy and convenient! More information about "Scan It Up" can be found at the website www.scanitup.com. In addition, Sandra Luty can be contacted by phone at 613-519-5244 or via email at sandra@scanitup.com .